"Look deep into nature, and then you will understand everything better." - Albert Einstein
About a year ago I started to use my nature journal more often. This has been most satisfying and has helped me both as a naturalist and as an artist. As a naturalist, I find I look more closely and ask more questions about my subject. I look at things from a different perspective than through the lens of a camera. I observe a single object for a longer period of time. As an artist, it helped me get past judging and criticizing my work which stopped me before I started.
Just by doing more, my skills are improving. I now use my journal work to do a study of a plant before a do a detailed drawing at home. And from a personal level, I get absorbed in the work and take a break from the ills in the world.
The key is using the journal to capture information - not worry about making a pretty book. That may come, but that is not the purpose. Here are some tips to get started.
Do it for yourself:
It is for yourself!

The journal is the tool

There is no right or wrong

It doesn't have to be pretty

Find what interests you

Get ideas from others and try different techniques
Deepen your connection to and understanding of nature: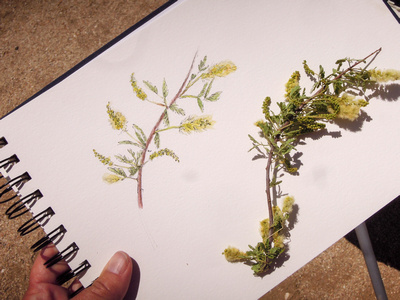 Catsclaw - Senegalia greggiiAnza-Borrego Desert State Park, Culp Valley Campground 05/29/2016
Go slowly and with thoughtful intention:

Record what you see, think, feel, and wonder:
Record Date, Time, Location, and Weather

Note Habitat

Note Species of Plants and Animals (counts, sizes, locations, behaviors)

Write descriptions, write questions, write ideas, write feelings

Draw pictures. Stick figures will do with words attached.

Draw for information and observation
Field kitField kit

Explore media but keep it simple:
If it is not easy and accessible, you won't do it.

Notebook and pen or pencil

Optional watercolor, colored pencils

Get ideas from others
The key is just to start and keep doing it!