The Bugs are Back in Town!
While much of the country suffered from major cold and snow, here in Southern California we started to see Spring. With some much needed rain and warm to downright hot weather, the insects are coming out to play. We had something to count on my monthly butterfly count and my yard was popular with moths.
I attended a fabulous North American Nature Photography Association (NANPA) conference is San Diego. On my way home, I stopped at La Jolla where Harbor Seals were having pups, and Double-crested and Brandt's Cormorants were displaying breeding plumage.
I was asked to give a presentation at the local middle school on Birds and Habitats prior to their participation in the Great Backyard Bird Count. I was very impressed with their politeness, attentiveness, and inquisitiveness. Our future looks bright!
Enjoy the show!
Locally I spent time in my yard photographing moths flying at night. I was pleased to see them nectaring on my lavender. In my backyard, I had aphids. Now I know most gardeners hate them with a passion, but I caught a parasitic wasp helping me out. These wasps lay eggs in the aphids. The larvae eat and kill the aphid leaving only "mummies". In my front yard, a gray hairstreak butterfly came close to a camouflaged green-lynx spider, but made an escape before the attack. For my birding friends, I saw some interesting birds. Some less common in our area including a Brown Booby on a buoy just outside the harbor, a Common Merganser (not as common as the name implies), and a Eurasian Wigeon. Some common birds showed some odd looking plumage as they are changing to breeding colors and demanded closer inspection. Watch the slideshow or click this link to look through at your own pace. http://kimssight.zenfolio.com/new_feb_2015
Harbor seals were on a protected beach with their newborn pups. You can still see the umbilical cord on some of them. The clean up crew (gulls) were picking at the cords. The Harbor Seals are fat and healthy. Unfortunately, there is a problem on the coast right now with many young California Sea Lions undernourished and sick. The cause is unknown. I saw some healthy adults but scrawny pups. The Cormorants were in the same area and were displaying beautiful breeding plumage. http://kimssight.zenfolio.com/la_jolla_02-2015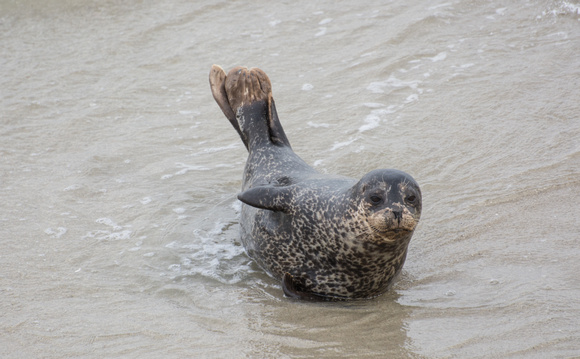 Wildflowers and butterflies in Limestone Canyon show a promising spring. Sara Orangetip and White Checkered-skippers were the butterflies of the day. http://kimssight.zenfolio.com/irc_feb_2015
Direct links