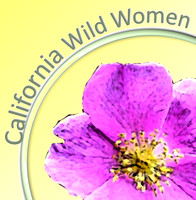 What a wonderful way to start the month! The 2020 International Biodiversity Championship is Monday, 3 August 2020 - 6 August 2020, under the auspices of the Natural History Section of the Ecological Society of America. I am a member of the team "California Wild Women". This was a group I connected with through iNaturalist. We each separately explore our local area and document the wildlife diversity we find. I designed our logo, the California Wild Rose, native to chaparral and woodlands in our region. The fragrant flower has five petals, one for each of us. I cover the coastal areas, my yard, and our regional park.
Team Description: https://www.inaturalist.org/projects/california-wild-women?tab=about
Team Observations: https://www.inaturalist.org/projects/california-wild-women
All Teams: https://www.inaturalist.org/projects/international-biodiversity-championship-2020
Some of my observations are in the links below. I chose some because I liked them, and/or they represented the habitat.
DAILY DIARY
August 2 (<12 hours)
Getting ready for a 4 day nature intensive challenge! What fun. It starts in <12 hours.
Today's preparations include getting chores out of the way (house cleaning, laundry, grocery shopping, clearing the calendar), getting the cameras ready (charging batteries, cleaning lenses), planning my day trips (checking tides, choosing locations).
The start time is midnight, but that is east coast time. I hope to start tonight at 9 pm. I will look for a few spiders and moths to kick things off.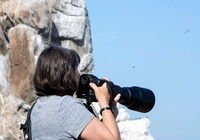 Photo courtesy of Lindsey PhilpottMorro Bay 03/17/2017
The biggest challenge I have right now is what camera(s) to bring. I am going to Bolsa Chica in the morning. There are lots of birds there so I want my best bird lens, a Tamron 150-600. It is very heavy. I have decided to take it. But I also want to look for the Silver Argiope Spiders. That is not a good lens for that. I have a good macro lens/flash on my other camera, but it is also heavy, and I can't carry both. I decided to charge up and bring my Olympus pocket macro camera. An added advantage is that it has a GPS built in. The only downside is picture quality, and I rarely use it, so I am afraid I will miss good shots. Life is compromise.
In proper park attireIn proper attire

I also have to think of snacks and water. With COVID19 closures bathrooms may be closed.
I hope my brain lets me sleep tonight. Let the games begin already!
10 pm Update
I wandered around my yard with a flashlight and my camera. I generally don't creep about at night, but was rewarded with more than I thought I would (mostly spiders). Now to bed for an early start.
.
August 3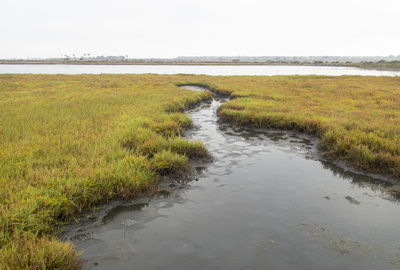 Bolsa Chica Ecological ReserveSalt water wetland
I woke up just before the alarm went off, fed the cats, drank a cup of coffee, and left for Bolsa Chica Ecological Reserve, a tidal wetland. It was the perfect place to go. The tide was low at 4:30 am, but the inner bay is gated and drains much later. So when I got there at 7 am, the tide was low and just beginning to rise. As predicted, I missed quite a few shots due to problems with my little camera. Perhaps I should read the manual! But also as predicted, there were lots of birds. I decided to focus on biodiversity rather than pure quantity or quality of observations. You may see a few multiple observations of the same species, but I think I shot only one or two of the multiple hundreds of Elegant Terns and Western Sandpipers. I tried to stay on mission, but couldn't help but linger with a Reddish Egret dancing to catch fish. A Peregrine Falcon swooped down to catch a crow in mid air. Flew off and landed with its victim directly in front of a lucky photographer. I, on the other hand, saw this occur from what seemed miles away and only caught bird smudges with my lens. I think you can just make them out. A highlight, was watching ants get caught on a high point when the tide came in. They bunched up, formed a raft, got carried off with the current, and drifted back to shore. They had a high survival rate.
Gum Grove PakGum Grove Pak
Gum Grove Park, 08/03/2020
On my way home I stopped at Gum Grove Park/Heron Point on the edge of Los Cerritos Wetlands, another tidal and fresh wetland. I thought it a long shot, and it was, to see frogs. Nope. No frogs. I did see a few butterflies, but mid-day in midsummer is quite a bit duller than early morning in spring. I went home for a healthy lunch (Rum Raisin ice cream is just milk and fruit, right?), a nap, and to download a few photos.
El Dorado Park, Area 3El Dorado Park, Area 3
El Dorado Park, Area 3, 08/03/2020
I lost some steam over lunch, but did get out to El Dorado Duck Pond and Regional Park. There is a reason I generally don't go in the afternoon -- it was crowded. Two drunk fishermen had a knock-down brawl, young boys were fighting, kids were screaming. So much for communing with nature. I did find a few things. My favorite was a teenage Western Bluebird thrashing a Mourning Cloak caterpillar and sharing it with a younger bluebird, probably from a later brood. I will spend the rest of the evening working on photos and trying to get some sleep.
Onward to tomorrow.

August 4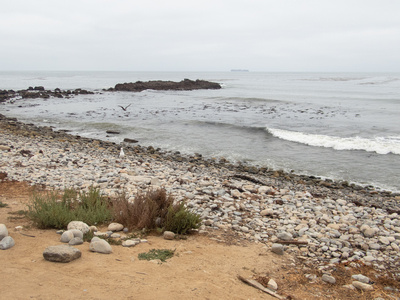 White Point/ Royal Palms BeachWhite Point/ Royal Palms Beach
OLYMPUS DIGITAL CAMERA
After a late night and early morning of photo processing from yesterday, it was time to go again. Today I went to White Point/Royal Palms on the Palos Verdes Peninsula and then over to Cabrillo Beach. These have rocky shores and sandy beaches with coastal sage scrub on the hills above. There are not as many bird species as found at Bolsa Chica yesterday, but I added a few species and a healthy number of observations.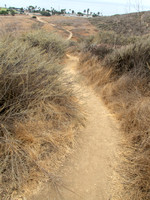 White Point TrailsWhite Point Trails
White Point Nature Center, 08/04/2020
There were many Black Turnstones at the shore, more than I generally see at one time.
At Cabrillo Beach, an endangered snow plover was marching around the paved parking lot. I guess we know why it is endangered. When I got home for lunch, a nap, and to download some photos, I found that had worn myself out. I took a minor number of photos around the house, but didn't find much at all. Oh well. After a good night sleep tonight, I am sure I will be raring to go.
August 5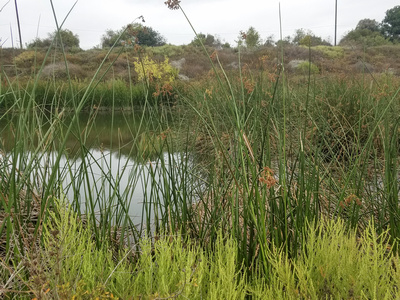 Dominguez GapDominguez Gap
Dominguez Gap, 08/05/2020
Another day. Today I visited the Dominguez Gap (a freshwater wetland adjacent to the Los Angeles River) and then to the lower Los Angeles River at Willow Street. The Gap was rather quiet. I had hoped to see a raccoon, a coyote, or a snake as I have seen in the past, but no luck today. I heard a bullfrog, but never saw it. Two other elusive denizens called out. There were about four Least Bitterns. They hid in the reeds, but flew between patches. I have never seen them so in the open before. However, since they were in sudden flight I had a hard time getting my camera on them. I spent quite a while before I could get even an obscured shot. The other elusive bird was the Marsh Wren. They make such a fun chattery call, but are frustratingly evasive. I did see a nest, and maybe a beak.
LA RiverLA River
Long Beach LA river at Willow Street,08/05/2020
Then it was off to the LA River. It is shorebird migration, so I saw several of my birding buddies. I tried to shoot at least one of every bird species I saw. Normally I spend more time trying to get 'pretty' shots, but I was seeking to document the biodiversity in a short period of time. I was satisfied. As I was leaving, we noticed a large number of Western Spotted Orbweaver spiders. I didn't have my good macro lens with me, so I had to make do with poorer photos, but at least I could add some photos to our team list.
I got home to avoid the afternoon heat. After my usual late lunch and nap, I searched my yard. I found a very interesting lace bug. I found a few other insects, but quit when the insects found me. Several Yellow Fever Mosquitoes found me tasty. As if COVID19 were not worry enough! I took a few photos and then ran inside.
August 6
Deforest WetlandsDeforest Wetlands
Deforest Wetlands 08/06/2020
The final day of the challenge. The challenge ended at 1pm and we had to have all our observations loaded by that time, so I stuck closer to home. I went to Deforest Wetlands and Park. The wetlands is a further extension of the Dominguez Gap. The park is just above that, with typical urban park habitat. This park is a great place for warblers in migration, but in summer, it was pretty much dead, except for a multitude of Black Phoebes and Bushtits.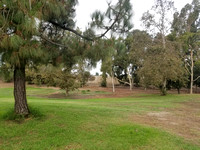 Deforest ParkDeforest Park
Deforest Park, 08/06/2020
I rushed home to process and upload my photos. I still have a lot of work for my own records, but I got the final batch uploaded with just four minutes to spare.
I really felt like I needed to high five my teammates, but alas, I am alone at my computer. We have had constant emails of encouragement with one another. I have looked at many of the observations they have posted and want to visit those places.
The Results
By the numbers:
36 Teams

5 Continents

We finish 6th in both number of observations (1988) and in identified species (753 and increasing as more id's are made)

2 species of spider new to my yard, 1 lace bug new to my yard and new to me, 1 mosquito new to me and my yard

Innumerable plants that I have seen and never paid much attention to
General Observations:
Scarily fewer birds this year, even for summer there should be more

High numbers of Wandering Glider and Spot-winged Glider Dragonflies

More mosquitoes than in recent years

More people out and about on a weekdays

So much trash from the homeless encampments in LA river and adjacent wetlands. Perhaps with COVID19 there are fewer cleanup parties

The wetlands adjacent to the river have been planted with native plants as part of restoration, but have many non-native species of plants coming through



Some personal key takeaways:
Pay attention to habitat more holistically

, particularly plants, which I often ignore

Read the camera manual when using a new camera. Better yet, learn it before you go

Don't go to parks in the afternoon. They are crowded

I really didn't miss anything on Facebook or in the news

Bioblitzes are exhausting, but are worth it. Being part of a team keeps you going

Seeing things you've seen before, but with a new perspective, gets you thinking

There is always something exciting if you look for it and something new to learn
Watch the slideshows or click on the links to look through at your own pace. Links open in a new tab.
Enjoy the show! I always appreciate corrections to ID's.
My Yard: https://kimssight.zenfolio.com/wild_women_my_yard
Urban Park: https://kimssight.zenfolio.com/wild_women_urban_parks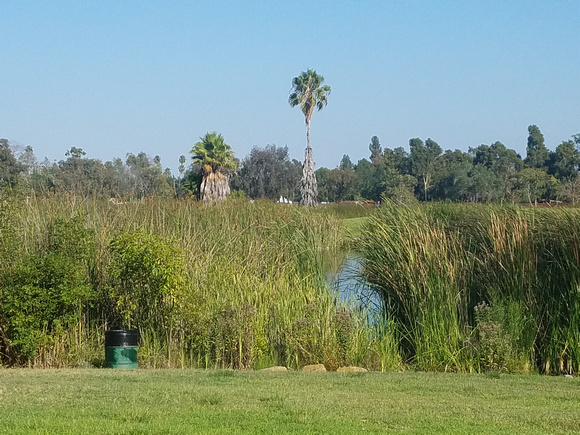 Tidal Wetlands: https://kimssight.zenfolio.com/wild_women_tidal_wetlands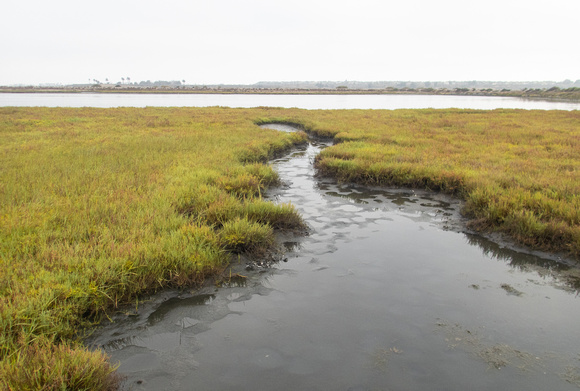 Rocky Shores, Beach, and Coastal Scrub: https://kimssight.zenfolio.com/wild_women_white_point
LA River and Freshwater Wetlands: https://kimssight.zenfolio.com/wild_women_la_river