Last January 1st, I coordinated what might now be an annual event. Nine friends joined me early in the morning for what is now called the LB100. We visited 11 parks looking for 100 species of birds within the City of Long Beach. Starting at 8am and finishing at 5pm, we came up with 96. Later in the year, a friend coordinated a similar event and we came up with 101 in one day. I have always thought that Long Beach is under birded and under appreciated for all the nature found here. That is actually how I started my website; I wanted to know what was in my own yard and own city. There are some excellent birders and naturalists who live here or nearby. Some use tools like eBird and iNaturalist to record their findings, but others just observe for their own enjoyment.
I thought I would organize some of my Long Beach hotspots. It is certainly not all inclusive, but is a good start. I hope many of you will contribute findings on iNaturalist and eBird.
---
All of Long Beach
Butterflies of Long Beach https://www.inaturalist.org/guides/7830
iNaturalist all of Long Beach https://www.inaturalist.org/observations?place_id=66068&subview=grid&view=species
---
Westside

This park has always been a hotspot for warblers and migratory birds. It runs next to the LA River in northwest Long Beach. Check the river, in season, for gulls, shorebirds, and maybe a peregrine falcon.
Recently a major restoration of the Deforest Wetlands connects the walk from Deforest Park to the Dominguez Gap. Look for butterflies, dragonflies, and lizards and frogs.
This park has a small pond that gets migrant waterfowl in winter. It is not birded very often but offers close up views of the ducks and other birds. It is known for the small Cackling Goose that seems to have taken up residence with the domestic ducks.
Dominguez Gap is fairly well established and runs next to a section of the LA River. Great for migratory waterfowl and Black-necked Stilts on the river. Blue-winged Teal, Cinnamon Teal, and Green-winged Teal can be found in the Gap in winter.
El Dorado Audubon has been conducting a monthly bird survey here since 2015, and now the Rancho is offering public bird walks. There are often resident Red-Shouldered Hawks, Common Raven, and lots of Hummingbirds. When the Toyon goes to fruit in winter, many birds come to feed including Cedar Waxwings.
We affectionately call this park Bathroom Park. Birders know that you can look all day and find nothing and the best birds are at the bathroom. This park is a good stop on the way to Dominguez Gap. On several consecutive winter outings, a Merlin has been found there. The open grassy lawn and high perches bring raptors. In the back of the park there are Silky Oaks which, when in bloom, are very popular with Western Tanagers.
Every birder worth their salt knows this hotspot on the river. South of the bridge are waterfowl and north of the bridge gulls and shorebirds. Osprey are frequently fishing. Rarities are often found here. I suggest you don't go alone for safety.
---
Points Along the Shore
Near the mouth of the LA River, this spot can be hit or miss for birds, depending on season and tides. When it is a hit, Black Oystercatchers on the river side and large flocks of Black Skimmers in the Reserve. You can walk around to the Catalina Express docks, and also check out the small group of trees for migrating warblers. Bring quarters for the parking meters.
This little park is behind the Aquarium of the Pacific. It is not birded often, but a pleasant breeze and views of the Queen Mary make it very pleasant. At low tide you can see some marine invertebrates.
A lovely gem of a park to walk around. It has tidal water and gets lots of shorebirds and waterfowl in winter. It also has marine invertebrates such as sea jellies. It is adjacent to a golf course and has trees for flycatchers and orioles. it is birded regularly by the locals.
A small spit of beach, but, when the tide is low, shorebirds flock.
A beautiful pocket park filled with native plants, butterflies, bees, and views of the bay. Cliff swallows collect mud when the tide is low and build their nests under the overhang of the sea retaining wall.
You can't enter the preserve without special permission, so this preserve is less frequently birded. You can look in from the outside along Loynes Drive. There are many Black-crowned Night Herons there and recently a couple of Yellow-crowned Night Herons were found there.
Los Cerritos Wetlands
Los Cerritos Wetlands spans across Long Beach and Seal Beach. Public access is through guided walks and activities by several organizations, many on the Orange County side. Therefore, I mention it here, but am not including details because it is not strictly as Long Beach.
---
Eastside
El Dorado Park South of Willow - Duck Pond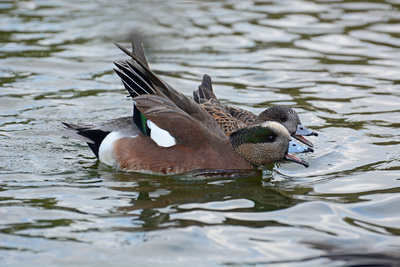 American Wigeon - Mareca americanaOrder: ANSERIFORMES - Ducks, Geese, and Swans
Family: ANATIDAE

Late September to early April

El Dorado Duck Pond, 12/20/2013

http://www.longbeach.gov/park/park-and-facilities/directory/el-dorado-park-west/
Filled with ducks, geese, Black-crowned Herons, and gulls, all begging for white bread which is served up by well meaning people. BREAD IS BAD FOR DUCKS!!! It has no nutritional value for them and it can contaminate the water as it rots.
Go birding in the park around the pond too. There are lots of trees, and there is brush along the fence next to the golf course.
This park is a beautiful tranquil place for wildlife including birds, mammals, insects, and of course, the turtles. The Great Horned Owls are always popular. There is a monthly bird walk and an annual butterfly count. Check their calendar.
This is a large park with many areas to explore. There are oak trees, sycamore trees, silky oaks, and ponds to attract birds. This park is great to explore any time of the year. Along the west side of area 3, there is a nice path along the fence line that is fun to explore for insects. There are dead trees kept for woodpeckers and other cavity nesters, such as Tree Swallows, Wrens, and Bluebirds. A group also maintains the Bluebird boxes.
The downside of this park is contending with recreational use. Drones and gliders seem to have multiplied. The park is packed on weekends and especially holidays, when it is littered with trash. I don't know where all the wildlife goes to hide because much of the lower brush has been cleared away. However, the real problem is the fishing line and lures that entangle, injure, and kill the wildlife. See my blog link below.
Wardlow is a small park but can be surprisingly good for birds, particularly flycatchers in migration. There is brush and low vegetation along the fence which is good habitat for some birds. The many trees and tall snags are well appreciated.
This park has a small pond and tall trees. It is not often birded, but if you are in the area, give it a look. You never know if that rare warbler will show up. You can always amuse yourself with American Pipits.