Good bye 2014. You were a great year!
What a way to end the year! Lots of local trips, the annual Audubon California Bird Count, my Monthly Butterfly Count, a road trip to Piute Ponds in the Mojave Desert, and a camping trip at Anza-Borrego in the Colorado Desert. All that and we finally got a heavy dose of well needed rain.
Anza-Borrego Desert State Park is in the Colorado Desert n San Diego County. We stayed one night in Borrego Palm Canyon Campground in Borrego-Springs. Great camping and hiking up the canyon to the oasis. The night was cold but cozy with a fire and toasty sleeping bags. Perfect weather for a hike the next day but clouds rolled in and we left just before the rain and snow! I saw my first Costa's Hummingbird and Rock Wren, both of which were plentiful.
Piute Ponds is situated in the southwestern portion of Edwards Air Force Base in the western region of the Mojave Desert, on the southern margin of Rosamond Dry Lake Bed.The freshwater marsh is comprised of channels, dikes and evaporation ponds with water supplied from a Los Angeles County waste-water treatment plant. This is not what I think of when I think of the Mojave! Highlights included lots of Northern Harriers, a White-tailed Kite, and a couple of Loggerhead Shrikes.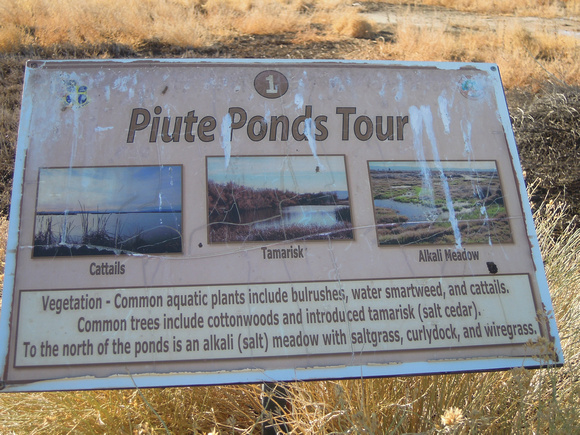 The El Dorado Audubon participates in the Annual Christmas Bird Count. Tens of thousands of volunteers throughout the Americas have taken part in the Audubon CBC for over one hundred years. Audubon and other organizations use data collected in this longest-running wildlife census to assess the health of bird populations - and to help guide conservation action. The area I covered was Gum Grove Park and Los Cerritos Wetlands. The weather was cool and gray. We didn't see as many birds as in prior years, but still we had a great time.
The monthly Irvine Ranch Concervancy butterfly count had cool weather and only a few plants blooming. We saw only a few butterflies but the scenery and hike is always rewarding. IRC staff, local butterfly enthusiasts, and experts continue to monitor IRC's butterflies every month! We will be recording number and types of butterflies encountered along the trails of Limestone Canyon. Our butterfly count will provide a benchmark estimate of diversity and number to compare to future local surveys and to larger patterns being compiled nationwide.
Locally I focused on birds and had a fine time with White Pelicans, Varied Thrushes, and I even added a Fox Sparrow, Horned Grebe, Eurasian Collared Dove, Dunlin, and Red Knot to my life list. Direct links